TAKE OUT WITH FULL CREDIT
jumpa lagii...dengan aku disinii..*huek
okke langsung aja yah kita ngebahas rambutnya kyu yang tiap penampilannya selalu berubah-ubah dari dia baru masuk SM tahun 2006 sampai sekarang akan kita bahas. Karena aku itu kurang kerjaan orangnya membahas yang gak penting. Tapi buat yang bener-bener freak sama kyu yah harus tau. Apa lagi yang baru ngfans sama Kyu. Check it dot . .
Kita mulai dulu yah dari rambutnya Kyu tahun 2006. Rambut Oppa kita yang satu ini agak mirip sama Vic Zhou yah pas potongannya kayak gini. Acak-acakan gimana gitu yah.Aeerrrrgghh..Biar baru potongan kaya gini juga udah keliatan gantengnya ya boo.
Ini pas dia baru masuk SM Entertainment udah di permak kaya gini. Rambut ini juga mengingatkan kita pas Mini Drama Kyu di Mnet.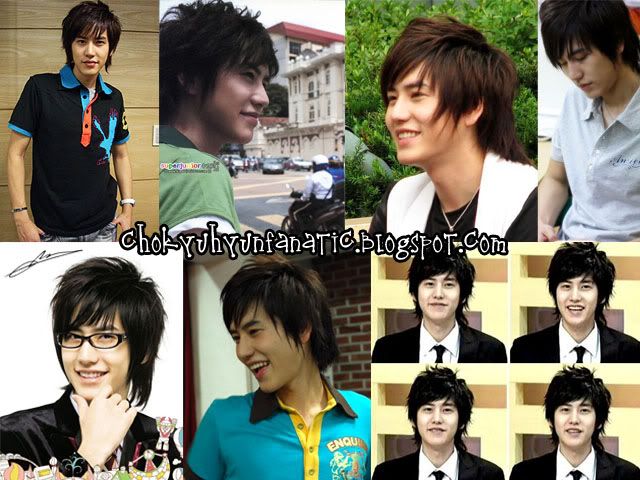 Lanjut yah. And here is Kyu's Hair in 2007. Pas album Don't Don KyuHyun oppa mengganti rambutnya dengan cat warna putih. Maybe temanya album Dont Don ini yang garang and laki banged.Potongannya sih agak mirip yah sama yang tahun sebelumnya. Hyu'
Rada aneh juga aku pas liat Kyu ko rambutnya putih gitu yah. Kakek akku aja kalah putihnya. *ga nanya
Dan di tahun 2008 Pas Album Super Junior M - Me, Kyu ganti lagi tuh rambutnya jadi warna Hitam and agak cupu juga sihh potongannya yah. Tapi tetep keliatan keren ko oppa kita yang satu ini. Kaya Baby face ajja mukanya dengan potongan kaya gini. *yang setuju ngacung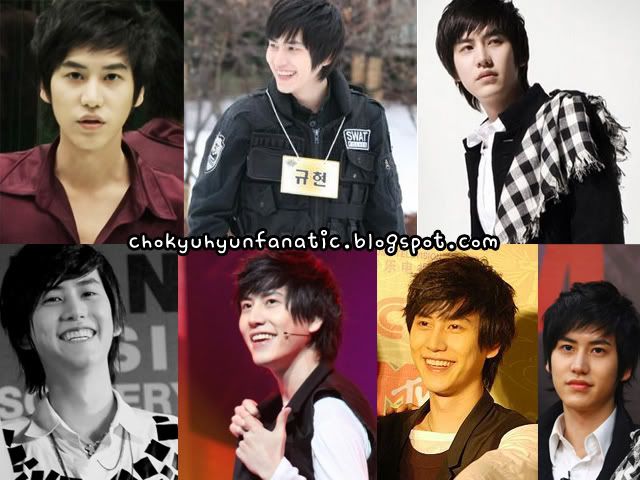 Comebacknya Suju di album sorry-sorry tahun 2009 ini kyu juga ganti potongan rambutnya Loh. Agak kriting-kriting lele gitu. Bhahaa.. Shock juga pas liat comebacknya SUJu Sorry-sorry liat potongan rambutnya kyu. Tapi semakin kesini yah sama aja gantengnya.*lebay. Tapi rambut bawah deket leher itu agak cungkring ke kanan ke kiri yah?? What the maksud kyu??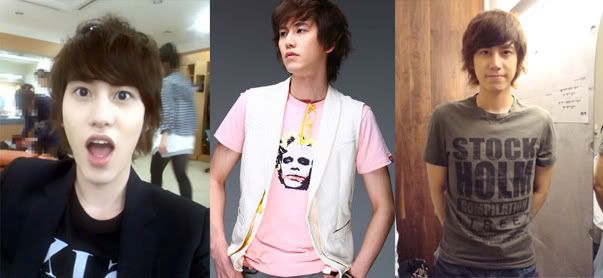 Dan di tahun yang sama 2009 juga Super Junior M comeback dengan album Super Girlnya. Rambutnya Kyu di poni trus kriting lele cap jempol juga. *mian*. Lucu deh liat poninya Kyu yang agak kriting gitu. Jadi ingad Junpyo di bonding. Haha.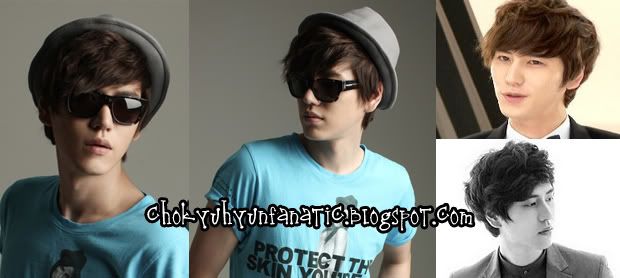 And Teet TtooLeett Tooleett.. 2010 Rambut Kyu berubah abis. Potongan belakangnya pendek. Trus rambut depannya di ke atasin gitu hampir sama dengan potongan rambut pas super girl.Tapi beda poninya doank yah guys.keliatannya lebih segerr aja liat kyu dengan potongan kaya gini.
So bagaimana pendapat kalian??Kerenan rambut kyu yang tahun berapa?? kalau aku sih suka semuanya. Coz yang namanya fanc suka ajja mau rambut diapain juga kyu mah tetep ganteng. Asal jangan Botak ajje...Hyu marri'
Credit: by chokyuhyunfanatic.blogspot.com